Christmas is Coming!
I can't believe how close Christmas is now – my work Christmas do is on Friday and I've got my dress (from Collectif), my nails booked (at Final Nail in Brighton), and my blow dry booked in (at the fab Forde Hair on Brighton's North Street).
There are still a few gifts to get though – come on, we can't all be super organised!! If you're still looking for something to get people in your life who may love crafting, baking, or similar things, then you're in luck! I've come up with a nifty gift guide which should be able to help with at least a couple of people. And for me, when I see something someone else has discovered, my efficiency-seeking brain gets happy – more time for me, more time for craft, more time for baking, and more time for Netflix!
Anyway, let's get on with the goodies.
Christmas Gifts for the Baking Lovers
HEMA dough stamps
These cute dough stamps would be great to stamp fun messages on cookies and biscuits. They are available in two variations: Nice and Hello, and Like and Happy.
Image: Amazon
Fred Tough Cookie Cutters
Who doesn't love a biscuit? I couldn't resist sharing these awesome tattoo themed Fred Tough Cookie Cutters* – perfect for the tattoo loving baker, or those not brave enough to ink up themselves!
Image: Sunday Girl
Retro Apron
I'm loving this cute red polka dot sweetheart neckline apron from Sunday Girl – there are lots of cute designs to choose from!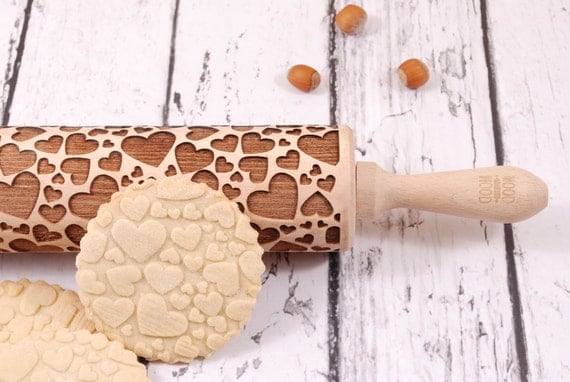 Image: Mood for Wood
Embossed Rolling Pin
These are an emerging trend, and Etsy sellers such as Mood for Wood (stifle those sniggers, readers!) create gorgeous embossed rolling pins, such as the heart embossed rolling pin pictured above.
Christmas Gifts for the Craft Lovers
Image: HEMA
HEMA Glitter Tape
Glitter tape is a great touch to add to hand made cards, presents, letters, organizer pages, SMASH Book pages, scrapbook layouts and lots more. You can get the cute glitter tape pictured above here at HEMA.
Image: Crafty Charlie
October Afternoon Daily Flash Hey Girl Stamp Set
I love a good stamp set and think that this selection would be perfect for handmade cards, organizers, and scrapbook pages! You can get this October Afternoon Hey Girl Stamp Set from Crafty Charlie.
Image: Mollie & Fred
One Day This Desk Shall Be Tidy Mug
Yes, every crafter should have this! Even the most tidy of crafters still suffers from desk mess guilt, so this 'One Day This Desk Shall Be Tidy' mug is ideal for them!
Big Ticket Items
There are also some more expensive gifts for crafters and those who love to take and share photos.
Fujifilm Instax Share
Image: Amazon*
I'm really lusting over this item. So, so much. The Fujifilm Instax Share* allows you to print photos from your smartphone, Facebook and Instagram, in Instax form! Gorgeous.
Image: Scrapbook Update
Silhouette Cameo or Silhouette Cameo Portait
I have the original Silhouette Cameo* and love it to bits. I love the versatility of it and think it far outweighs the other market rivals. It's blimming great. If you're looking for a smaller, more budget-concious version, the Silhouette Cameo Portrait* is for you.
I hope you got some ideas for presents for those in your life who are passionate about crafts and baking, or just things to treat yourself with your Christmas money! Let me know in the comments below what you would recommend as gifts for crafters and bakers.
NB: Some of the items featured in this post have affiliate links. They are marked with an asterisk. All of the items mentioned in this post are chosen by myself and myself only. I have not been sponsored or paid to recommend any of the above items.