With a new year, comes new projects, and a lot of people have started Project Life for their new hobby in 2015. Partly to do with the growing popularity of planners, partly to do with YouTubers & Bloggers such as Lily Pebbles and Sprinkle of Glitter, and partly because it's a fun idea.
I've tried to do it before, but without a proper crafting space, I struggle to prioritise my crafting and just do what I can. Ideally, I'd spend a little time every month creating some fun pages to illustrate what I'd been up to that month. Wouldn't that be great? To document your life! However, you need photos for that, and I need to take more photos… see how it progresses?
Anyway, not to put you off in the slightest – Project Life is wonderful, and is a great hobby in itself. Whether you're single, married, engaged, a parent, teenager, retired, or work full time, it fits YOUR needs when YOU want.
I thought that I'd show you my favourite crafty bits for Project Life, just in case you want to try it out for yourself. Remember – you do not need to buy all of the 'official' Project Life products. In fact, if you have some craft bits and a printer, you're almost there!
How To Start Project Life
You will need…
I love American Crafts 12×12 D-ring albums as this is what I use for my scrapbooking too. We R Memory Keepers (who were bought out by American Crafts, I believe) have a fab Teresa Collins range, they are simply gorgeous:
You can pick up the Teresa Collins gold stripe album* (note, this isn't 12×12) from Amazon and from specialist online craft shops.
 I also really love this Teresa Collins 'Our Life in Photos' 12×12 scrapbook album*, it's pretty and understated.
You can buy official Project Life pockets such as the ones pictured above (Becky Higgins Project Life Set A* for 12×12 albums), or unofficial ones such as these October Afternoon Daily Flash photo protectors from Papermaze.
Free Project Life Printables
I have a ton of free printables on my Printables and Project Life Pinterest boards. Make sure you follow at least these boards if you're looking to take on the challenge that is Project Life, or if you just fancy using free printables for other reasons (like scrapbooking, or resizing the images and printing onto sticky paper to then pop in your planner)
Photos, Cardstock, Ephemera, Craft Embellishments, and Memories
The rest, is up to you!
I have a massive collection of cardstock, paper, embellishments etc, and it keeps on growing. It's good to see what your style is, to buy what you can afford, and most importantly, what you like.
Some people choose to use some of the journalling cards available too, there are some awesome ones available – here's a selection of some of my favourite journalling card sets:
Love Notes Project Life Mini Kit – £12.99 from Papermaze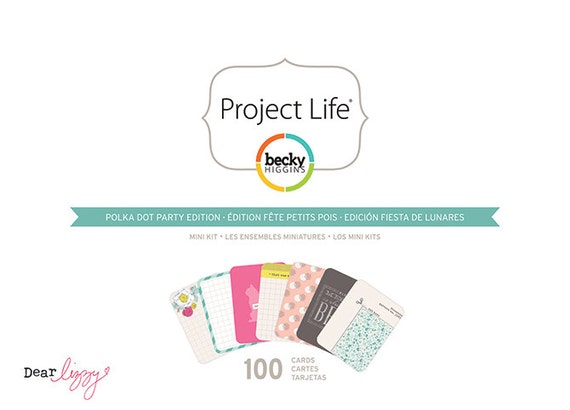 Dear Lizzy Polka Dot Party Mini Kit – £9.28 from Etsy
Heidi Swap Gold Foil Mini Kit* – £14.99
Heidi Swapp Color Magic Value Pack – £14.99 from Crafty Charlie
Have you ever thought of trying Project Life? If you have, make sure you link me to your photos and blog posts with your pages in the comments below!
NB: Some of the items featured in this post have affiliate links. They are marked with an asterisk. All of the items mentioned in this post are chosen by myself and myself only. I have not been sponsored or paid to recommend any of the above items.