I love Halloween even though I don't usually 'celebrate' it in the expected way with dressing up, parties and more. Instead I like to wait until the holiday is over and the Halloween decor is reduced! I have always had a love for skulls and all things spooky and don't like limiting myself to having it for a short time at a certain point in the year!
However, I realise that a lot of people are not as into having spooky things up and around all year round but still enjoy making and creating things to decorate their homes and serve at Halloween parties and I have found some awesome things around the internet for you to make and enjoy!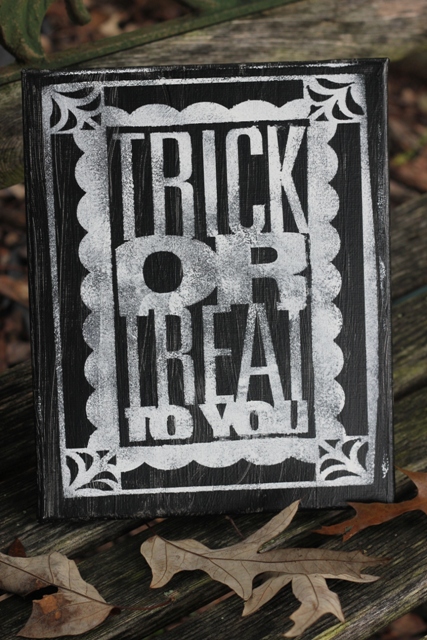 Joy made this awesome Trick or Treat sign as part of her work on the Lori Whitlock design team
Skye and Erin have been challenging each other to Halloween themed crafts. My favourite of Skye's so far are the Halloween cupcakes (naturally!) and Erin's is the spooky ghosts.
This Halloween candy bark from The Girl Who Ate Everything looks delish! Now who wants to send me some candy corn in a care package? Ha.
When I taught I used to get jealous of the science teachers having so much fun in their lessons, blowing up jelly babies and making slime. Little did I know how easy it was to make it! Domestic Charm shows you how to make Glow-in-the-dark slime. Fun even if you don't have kids of your own!
I'd love for it if you could link me up with your favourite Halloween makes and bakes – please do so in the comments below!